2012-07-10 16:28:14 / Kitegabi
9 Pages in Kiteboarder Mag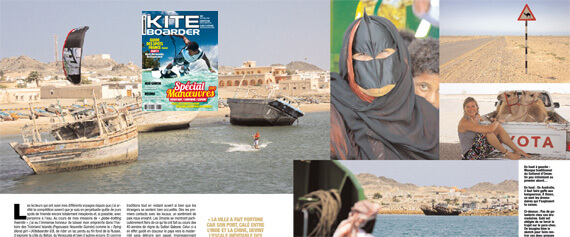 The very latest issue (No.74) of Kiteboarder Mag France has just hit newsagents and shops.
I'm super stoked to have
9 pages
in it with
my story about my amazing trip to Oman, in the United Arab Emirates!
Once upon a time….    Sindbad the Sailor (Abu Ubaida ibn Abdullah ibn Qassim), his journeys are known all over the world. Today he would be a kitesurfer, that's something I'm absolutely sure of!  Exploring his home grounds, I found sheer kite-perfection in a country that not many kitesurfers have discovered for themselves yet.  It's definitely worth it guys, check out my article and then go and book yourself a ticket .  .
Alternatively to the French version, check out the
German version that got recently published on 10 pages in Kiteboarding.eu
in my
Publications Portfolio
or
in English in The US Kiteboarder Magazine also on 10 pages!
Have fun guys & I always love to hear from you!
Gxx