2012-08-14 14:41:08 / Kitegabi
The Island of the Gods: BALI, Indonesia


Yew, the very latest issue of IKSURF Mag has just gone live and you better make sure to check it out!

Issue No.34 is chock-a-block with really good stuff and super interesting articles. I had the pleasure to contribute with one beautiful travel-feature which is also this issues Cover Feature: My trip to "The Island of the Gods: BALI, Indonesia".

PULAU DEWATA – "Island of the Gods" – as the Balinese call their country. Who wants to contradict them there? Coconut trees shade fine sandy beaches, snow-white in the south, volcano-black in the north, varied landscape of hills and mountains, rugged coastlines, lush rice terraces and barren volcanic hillsides; Bali is blessed with dream beaches, a fascinating culture, tropical climate and fauna and so much more … The gods must know best after all, where on earth they can live heavenly !

Me personally, I am very attached to this pearl in the Indian Ocean. By now nearly 10 years ago I did my first kite-course on Bali and therefore this island has a very special place in my heart. It is the place in the world where I first had a kite bar in my hands and my feet in the straps of a board. In this respect Bali is where Kitegabi was conceived! I owe Bali and the Gods there a lot!

Check out the full story right here folks, it's a real 'goodie' I reckon: waves, freestyle, a daredevil-crossing over the Lombok strait, Indo culture, valuable infos for travellers and more! The photos to this feature were taken by an absolute pro on the water photography and film sector, who I owe so much to: Mark Thorpe. He was shooting underwater for National Geographic for many years and even received the industry-related award at the Film Festival in Cannes for his amazing work, before he settled with his wife on Bali. He just recently launched a really cool Watersports-apparel label "Liquidmocean" and also runs Photography courses on the Island of the Gods, check it out ! I would like to take this opportunity too to send a HUGE THANK YOU out to Mark for all his efforts and amazing work, you're a star mate!!!

Enjoy & please send me your feedback, I always love to hear from you!
2012-07-10 16:28:14 / Kitegabi
9 Pages in Kiteboarder Mag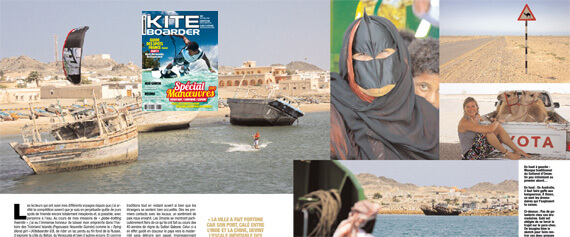 The very latest issue (No.74) of Kiteboarder Mag France has just hit newsagents and shops.
I'm super stoked to have
9 pages
in it with
my story about my amazing trip to Oman, in the United Arab Emirates!
Once upon a time….    Sindbad the Sailor (Abu Ubaida ibn Abdullah ibn Qassim), his journeys are known all over the world. Today he would be a kitesurfer, that's something I'm absolutely sure of!  Exploring his home grounds, I found sheer kite-perfection in a country that not many kitesurfers have discovered for themselves yet.  It's definitely worth it guys, check out my article and then go and book yourself a ticket .  .
Alternatively to the French version, check out the
German version that got recently published on 10 pages in Kiteboarding.eu
in my
Publications Portfolio
or
in English in The US Kiteboarder Magazine also on 10 pages!
Have fun guys & I always love to hear from you!
Gxx