2012-07-30 16:46:37 / Jérémie Eloy
And it's time to go!


After 3 months of traveling thru Brittany for the episode Make My Day, you can watch it here, it's time to pack and hit the road.

For the program three months on the road, the Indian Ocean, Japan, then Tahiti. And it will be the episodes 5, 6 and 7 of the web episode Make my day. kiteboarding, meetings adventure will be as always exciting.

In my Boardbag, new North kite Rebel 2013, the new Wam 5'10, and video gear, rails, cranes, boxes, steadycam …. for sure i will be overweight, and i will spend time to negotiate at the airport.

Do not forget that there is a trip to Tahiti to win, Julbo has put together the journey of my dreams: Imagine two weeks in Tahiti on a boat, with cameraman and photographer … just make a one-minute video, but be moose, the value of the prize is 6000 euros , so take time to think, and leave us another thing: "I want to go to Tahiti"

And there's stuff to win a board Whip North Kiteboarding, a pair of Julbo sunglasses, a mood ring, on the competition Make my Day is here
2012-07-10 16:28:14 / Kitegabi
9 Pages in Kiteboarder Mag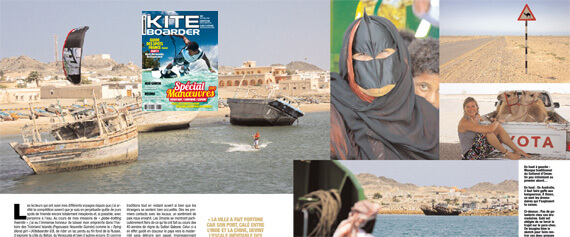 The very latest issue (No.74) of Kiteboarder Mag France has just hit newsagents and shops.
I'm super stoked to have
9 pages
in it with
my story about my amazing trip to Oman, in the United Arab Emirates!
Once upon a time….    Sindbad the Sailor (Abu Ubaida ibn Abdullah ibn Qassim), his journeys are known all over the world. Today he would be a kitesurfer, that's something I'm absolutely sure of!  Exploring his home grounds, I found sheer kite-perfection in a country that not many kitesurfers have discovered for themselves yet.  It's definitely worth it guys, check out my article and then go and book yourself a ticket .  .
Alternatively to the French version, check out the
German version that got recently published on 10 pages in Kiteboarding.eu
in my
Publications Portfolio
or
in English in The US Kiteboarder Magazine also on 10 pages!
Have fun guys & I always love to hear from you!
Gxx