Product
Information
The Mono is a modern one strut design best suited to the accomplished Freerider wanting to travel light and advance on a Twin Tip, Directional or Foil. Stripping it back to basics, the Mono takes inspiration from the Neo where a soft bar feel and linear power development are key. The Mono is easy to relaunch, offers a stable canopy and a very smooth handling. A very light but also very robust kite in a simple package. Get ready to enjoy a playful ride powered by a simple design.
| Size | Windrange | Rec. Line Length |
| --- | --- | --- |
| 3,5 | 26-40 | 22 (24) |
| 5 | 23-38 | 22 (24) |
| 7 | 19-34 | 22 (24) |
| 9 | 15-30 | 22-24 |
| 12 | 11-22 | 22-24 |
Hardfacts
Moderate Delta design
4 and 5 lines compatible
Light and robust 1 strut design
Soft bar feel and linear power development
Excellent depower
Quick and easy to relaunch
Fast and reactive steering
Product
Tech & Features

Dacron and Technoforce D2

Glued Zigzag Stitches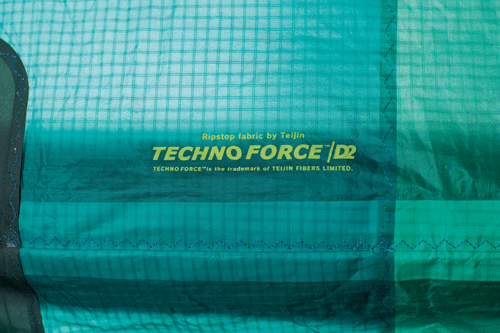 Teijin is the world's leading supplier for polyester fabrics and sail materials for all kinds of marine sports. We use the remarkably durable Teijin Dacron for our leading edge, struts, wingtips and wherever high tension or an applied load is found. Technoforce D2 is used for our canopy. Technoforce D2 was an exclusive coating development for North Kiteboarding, which has proven its superiority in durability and dynamics since we started using it.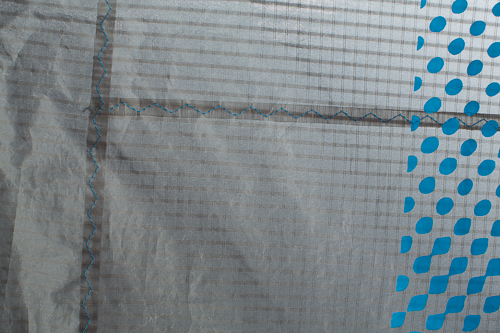 Every single seam is stitched with a zigzag sewing technique. They are first glued then stitched. The result is a clean, good-looking and highly durable stitch, which supports the overall stability of the kite.

Abrasion Reinforcement

Kook Proof Connectors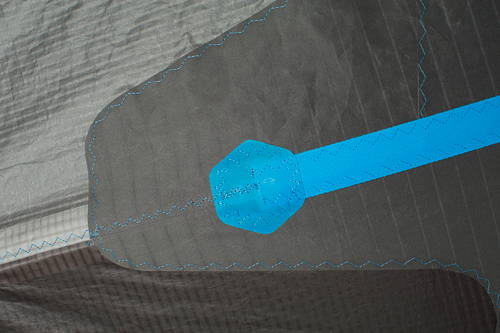 All areas exposed to scuffing strengthened with STPU reinforcements, renowned for its durability against abrasion.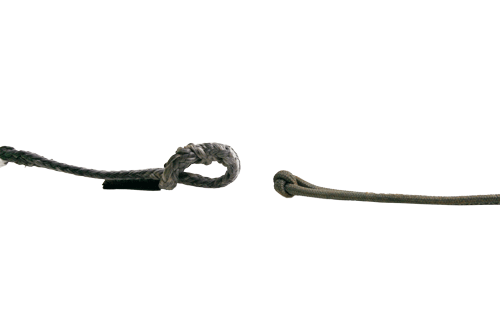 The kook proof line connection points prevent accidents by guaranteeing that you cannot accidentally connect your lines incorrectly when rigging your kite.

Progression Q

Airport Valve II
PROGRESSION Q DEFINES OUR PROGRESSIVE COMMITMENT TO QUALITY, INNOVATION AND PREMIUM PRODUCTS.
Our design and engineer visionaries are blended with premium technology and the latest production techniques, ensuring that our brand remains one step ahead of the rest.

Our mission is simple, yet the foundation of everything we do at North Kiteboarding. Pushing the boundaries of progression and design innovation, we remain committed to unifying premium technology with the latest production techniques, skilled workmanship and fair labour in both Austria and Sri Lanka.

NORTH KITEBOARDING STANDS FOR PROGRESSION, PREMIUM QUALITY, CREATIVITY AND DESIGN. THIS COMBINED REPRESENTS LEADERSHIP. Kiteboarding is a way of life, and for us a kite is more than just a kite; it's a statement and a reflection of your inner style. For more than 10 years, our innovative breakthrough in materials and technical design has allowed us to remain one of the leading brands of the industry. We believe there's no substitute for anything other than high performance and premium quality products. Our evolutionary systems are a result of our ingenious in-house designers and R&D team, and we consider our technological advancements as key contributors to the growth and safety of the sport.

There are 3 aspects to this approach that complement each other and have to work together seamlessly:
1. MATERIALS AND HARDWARE
2. EMPLOYEES AND PRODUCTION TECHNIQUES
3. CONSTRUCTION DETAILS AND DESIGN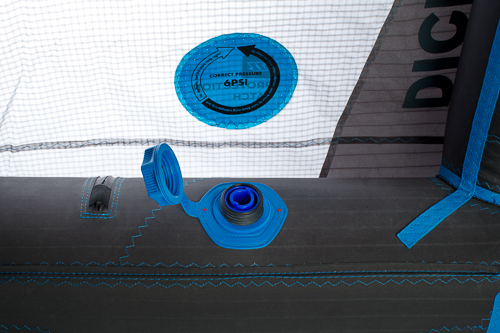 For 2017 all kites are equipped with the completely redesigned Airport Valve II. To ensure user friendliness the non-return valve has a valve cage which prevents damages of the setback membrane in the inside of the bladder. Reassembling of the secure ring is completely easy due to a secure ring tool which is additionally delivered. This new system doesn't need a velcro system and is not twistable. The thread of the Airport Valve II is redesigned and is less affected by sand or other materials. The top of the valve can be opened and closed easily. The Airport Valve's II unique construction has several advantages, but first and foremost it saves time rigging and gives you more time on the water. The valve works with any conventional pump or compressor as it can be connected directly to the bayonet insert of the hose. The valve is suitable for both, inflation and deflation. The deflation option is integrated, which means no external deflation pin is required. Deflation is simply activated by turning the blue wheel on the inside of the valve completely to the right.

PLEASE NOTE: Should you choose to deflate the kite via the DUMP VALVE, ensure to loosen the valve cap of the Airport Valve II before opening the dump valve. This prevents a possible rotating of the bladder in a deflated state.

A short sizzling noise, which is a very small amount of air escaping from the interspace of the valve, when taking off the bayonet fitting is normal. The valve enables fatigue-proof inflation due to the bigger air passage. Even bigger kites will be inflated with ease! The new North Kiteboarding pump works 100% perfect with the Airport Valve I and II.

Heavy Duty Leading Edge Closing Seam

Anti Snag
The leading edges of all kites are extremely durable due to a special heavy duty closing seam. The Dacron material at the leading edge is reinforced with a self sticky Insignia Tape and double stitched additionally. The Heavy Duty Leading Edge Closing Seam is resistant to very high tensions and diagonal forces.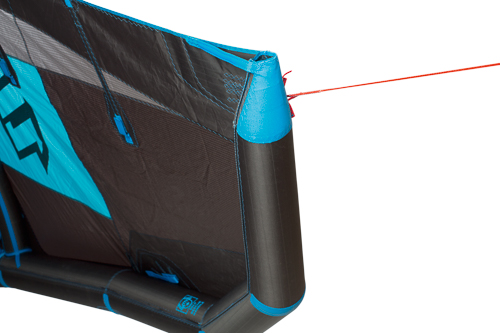 The Anti Snag webbing is preventing the lines from tangling around the tip of the kite. Waterstarts are made easier and safety is increased.
Lines by Teufelberger

Computerised Cutting
Teufelberger is a leading supplier for ropes, ranging from climbing, sailing and paragliding to specialized ropes for kitesurfing. North Kiteboarding uses Teufelberger products for lines and bridles.
Computerized cutting ensures millimetre precise working pieces, a minimum of waste and a maximum of efficiency of the cutting process itself. This way the high expectations of our two kite designers can be met to their full satisfaction.
Fusion Strut

Load Distribution Panels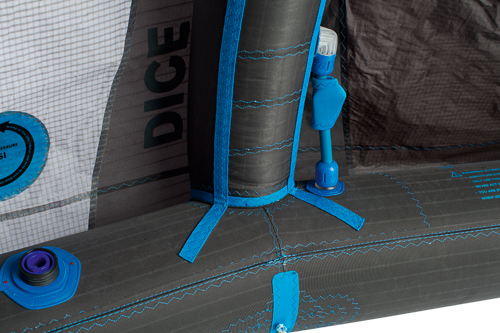 This construction allows for a controlled distribution of forces between strut and leading edge. Struts are 100% connected to the leading edge with a flexible Dyneema line,which promotes higher canopy tension and a clean profile.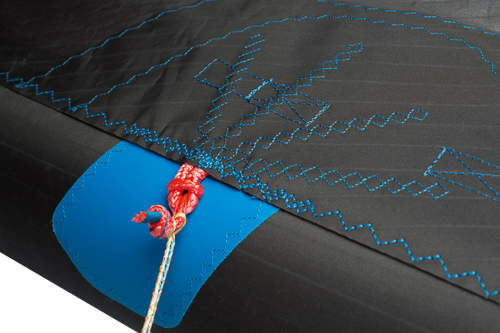 As kite geometry improves, the canopy must continue to resist increasing forces. To spread these forces, Load-Distribution-Panels are used, holding the kite's shape even under the most extreme loads. In practice this gives a smoother and more consistent performance from the kite in any riding situation.

Trailing Edge Force Control

Self Rescue Handles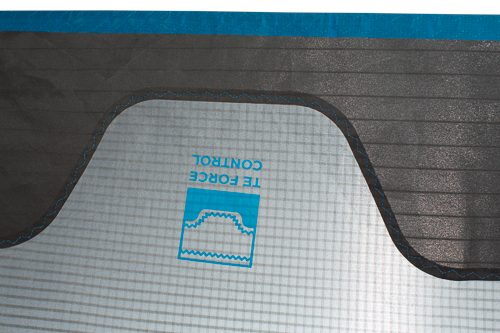 The Trailing Edge Force Control is responsible for the smooth power distribution between the different materials of the kite, forcing the tensions in the right directions. Since 2013 the waves are higher and wider to eliminate stress points between the Dacron Trailing Edge and the D2 Canopy material. This change in construction reduces fluttering marks and ensures that the material is not wearing out.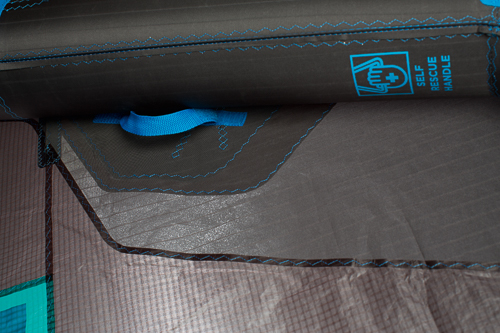 The self-rescue handles on the inside of the wingtips can be easily found in case of an offshore break down. They provide a good, comfortable grip while sailing back to the shore during a self-rescue manoeuvre.

Lazy Pump

TQM-The Quality Check Card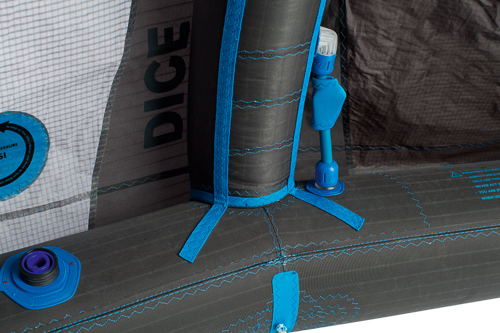 The North Kiteboarding Lazy Pump system enables the inflation of the kite from just one valve. Clips close off struts from leading edge to prevent unwanted airflow in case of damage or simply to only deflate the leading edge.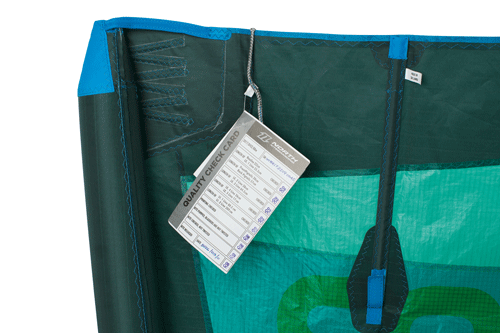 A detailed quality control system has been developed, controlling every step starting with the delivery of raw materials to the factory and ending with the final delivery of kites to our customers. In between, every single stage is optimized to the smallest detail. The quality check card is the key to keeping precise control over the process for every individual kite at every stage.

Zipperless Strut

Computerised Sewing
A strut without zippers means less weight, and results in smoother flying characteristics and increased durability. These advantages outweigh the slightly more tedious process required when changing a strut bladder.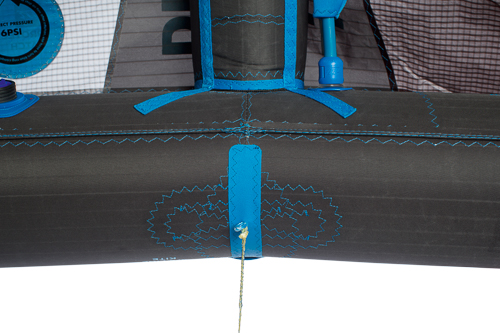 All critical seams are done with computer supported sewing machines. This avoids human mistakes and inconsistencies, increases the productivity and reduces waste from cut off materials; it is the only way to create a perfect and consistent result every time.